Uniform Lists 2020-21
Junior School Boys Uniform List
Junior School Girls Uniform List
Senior School Boys Uniform List
Senior School Girls Uniform List
We were looking at alternatives sportswear just before lockdown and our plans were sadly delayed. As a result, the tracksuit is only available now in limited sizes and will be on special offer at Schoolwear Solutions. We will be flexible in non-branded tracksuits until we have further news. 
Schoolwear Solutions
Our school uniform supplier, Schoolwear Solutions, has moved to a temporary location:
Morleys Schoolwear
116-118 Bramcote Avenue
Chilwell
Nottingham
NG9 4DR
We have been provided with the poster below containing some further information. Please contact Raaj should you have any questions.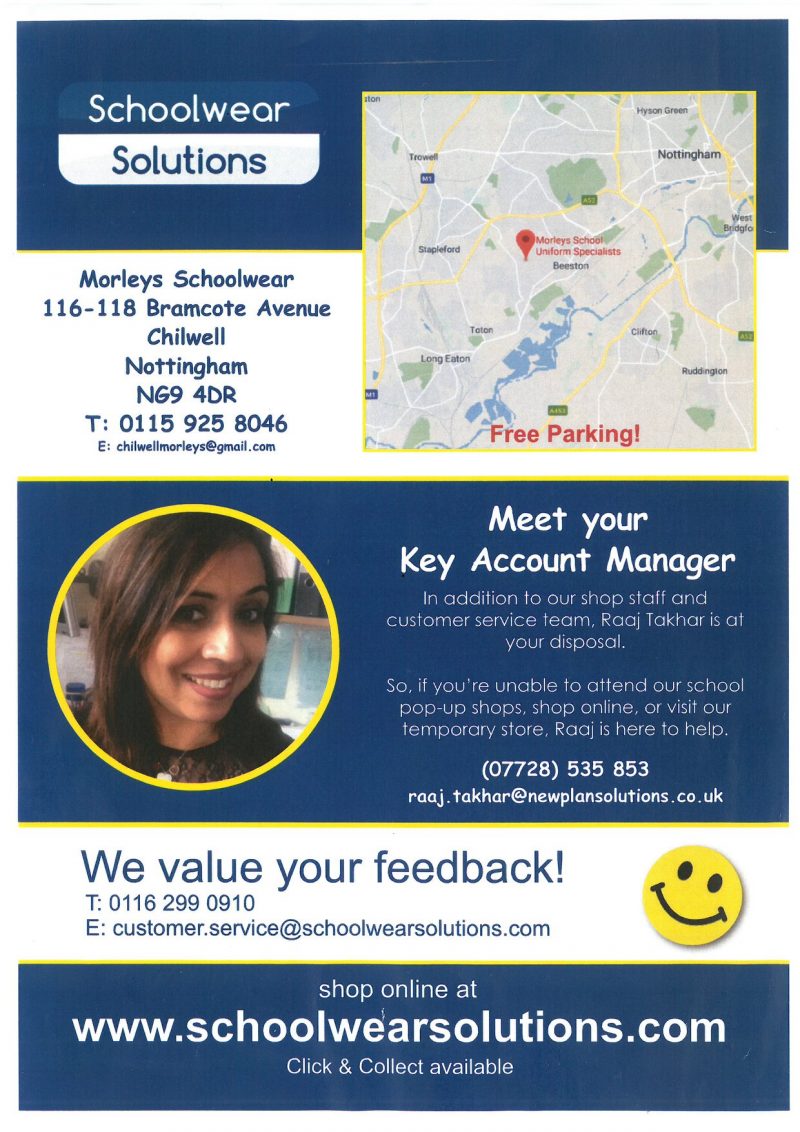 Opening Times

Monday to Wednesday 9.30am – 5.00pm
Friday & Saturday 9.30am – 5.00pm
Thursday & Sunday Closed
Schoolwear Solutions During the Covid-19 Pandemic
Please read the following letter from Schoolwear Solutions about special offers, shopping online, a click and collect service, and appointment services during the pandemic:
Letter from Schoolwear Solutions
The Second Hand Uniform Shop 2020-21
The Second Hand Uniform Shop is in the Friends' Room in 9 Villa Road. Please be aware that we only accept cash or cheque and payment must be made at the time of purchase.
Friday 27th November, 2.00pm – 4.00pm
Friday 29th January, 2.00pm – 4.00pm
Friday 14th May, 2.00pm – 4.00pm
Wednesday 7th July, 2.00pm – 4.00pm
Thursday 8th July, 2.00pm – 4.00pm
There is a Facebook community group set up by the Friends of Hollygirt committee if you have any questions about the Second Hand Uniform Shop. Click here or search for 'Hollygirt School Second Hand Uniform Shop'.