Message from the Head
Dear Parents,
Life as the new Head of Hollygirt is gathering pace! Thank you to all the staff this week for their hard work in settling the students back into school routines. We know that Year 8, in particular, have missed out on community events over the last year due to Covid, so I hope that many of Year 8 parents (alongside our new starters and Year 7 parents) can attend our Welcome Evening next week Wednesday 15th September from 6.30-7.30 pm.
As promised, an update re: Prizegiving. It will be Wednesday 13th October from 7-8.30pm for Year 3 upwards. Attendance is compulsory. This year it will be a shorter but very warm and welcoming event. Our Headboy and Headgirl will speak, as will our Chair of Trustees, and I will also speak briefly. We gather together to celebrate the stunning achievements of Hollygirt students. Friends of Hollygirt will be there (more of that below) and we will probably hold a raffle. It is at the usual venue of the Albert Hall (all things Covid permitting). We will send out more details nearer the time but this is a date for your diary!
We decided to invite all the students from Year 1 upwards in for Open Morning this year (Saturday 18th September) and we're really looking forward to showing off the school to prospective parents. Please do let us know if your son or daughter can attend via this form. We realise this is late notice and different arrangements to previous years but just wanted to welcome all the students in a change from recent years.
It was lovely to catch the Junior Headboy and Headgirl speeches and well done to all the students who stood up to deliver a speech -it's no mean feat! More of that from Mrs Wright!
Lovely too to see the Senior Prefects talking to students in assembly today and explaining their roles and responsibilities.
I want to apologise to a few parents about the shuttle bus this week. We have been experiencing some problems and we are rapidly trying to sort this situation out. As I said last week, please do always email us with problems, worries and concerns – we will always try to resolve these as quickly as possible.
There are a couple of exciting pictures on my wall of proposed PE kits so I will consult with the experts (our students) as we hope to launch the new whole school P.E. kit soon……the suspense….
I look forward to seeing many of you over the next few weeks.
Have a lovely weekend,
Dr. Helen Barsham
Head
Message from the Head of Juniors
Good afternoon,
The first full week back has certainly been a busy one.  The children have all settled into their new classes extremely well and are enjoying learning new topics. Lunchtime clubs have resumed and are proving popular. Football club is starting today and other extracurricular clubs begin next week.
On Monday, Roald Dahl's birthday, we are launching our Readathon which will run for two weeks. Mrs Keyworth took an assembly with the children on Wednesday, reminding them of the importance of reading. The children should have come home with their sponsor cards. We are encouraging all children to read as much and as often as they can during the next two weeks and they can be sponsored per publication, per hours completed or with just one fixed sum. With this in mind, please can you ensure that children have a reading book or other reading material, for example, a comic, with them each day.
Roald Dahl Day will be held on Friday 17th September: children can come dressed in yellow, wearing yellow accessories (as this was Dahl's favourite colour) or they can choose to come dressed as one of Dahl's many storybook characters.
As you are aware, it is Open Morning on Saturday 18th September.  Thank you to the children who will be attending and to parents for making the arrangements for this. We completely understand that some children have other commitments on this morning. If you have friends or family who wish to attend Open Day and haven't yet booked on, please ask them to contact school to secure a place or direct them to our website where they can register their attendance.
And finally, earlier this week, six brave pupils in Year 6 delivered speeches to the Junior School for our Head Girl / Head Boy elections. I was so impressed by how confident they were and how well they spoke. The children should all be extremely proud of themselves. Some great ideas and all the children gained a great number of votes. I am pleased to announce that our new Junior Head Girl is June and Deputy Head Boy is Rishi.  Huge congratulations to them and I look forward to working with them this year.
This week's Stars of the Week can be viewed here.
Have a lovely weekend,
Mrs Wright
Head of Juniors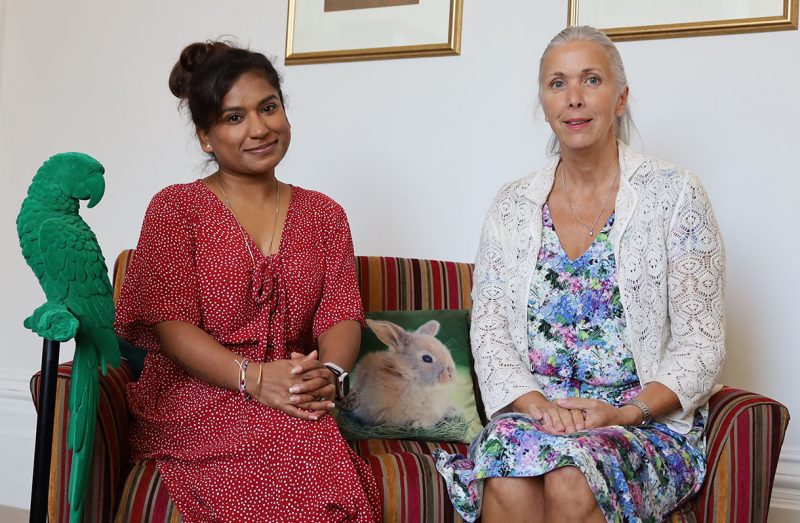 Message from the Chair of Friends of Hollygirt
I am so excited to have Friends of Hollygirt back up and running again after COVID. Friends of Hollygirt involves parents and teachers and we arrange social activities to raise money to support pupils' activities through different events.
Our past events include the annual curry night, Fright Night disco for Halloween and Junior Schools Christmas disco.
We are currently on the lookout for new committee members, to help us drive this amazing association forward.
We will be holding online zoom meetings to make monthly meetings a lot easier. We have a lot of different ideas in the pipeline and are ready to shake Friends of Hollygirt up!
Do you have a spare 30 minutes once a month? You do not have to commit every month – we are looking for parents who can lend a hand with different events during the year. What a great way to get involved, get to know the teachers and spend more time with your children?!
Have you got an idea which you would like to share with us to help raise money for the school? Let us know!
If you're interested, please email Claire Jones on clairejones@hollygirt.notts.sch.uk
Best wishes,
Pooja Gadhia
Chair of Freinds of Hollygirt