Dear Parents,
Now this has been a very grey week and I would like to see some blue sky. Is anyone going for a run on Saturday morning? I've been going to Sherwood Pines Parkrun and it certainly provides a much needed boost to recharge from the week.
This week in Senior School, we have finished the mock exams and are picking up the pieces. The good thing about mocks is they are not real and there is plenty of time to get it right, or make it better. Heads down and action.
On Tuesday, pupils in Year 11 had a visit from the National Citizenship Service. They  played games and introduced the NCS Summer Programme. We think this is a fantastic scheme for Year 11 after their GCSEs and encourage all to consider it carefully. It is fantastic personal development, gives something back to society and sets the tone for personal development as the children move on to their education beyond Hollygirt.  Please take a look on their website for more information: https://wearencs.com/summer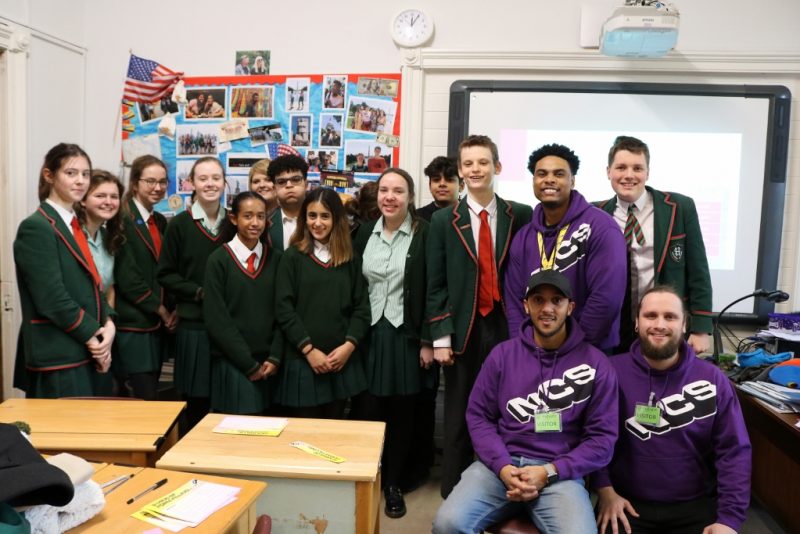 On Wednesday, pupils in Year 10 and 11 went out to Poetry Live to support their English studies. It was probably well-timed as on the same day we hosted 4 groups of prospective Year 7 children into Senior School offering them a range of senior lessons: Maths, English, Textiles, Art, Science and Music. Each child had a short interview to give us an idea about their interests and their personalities which together with the teacher observations enables us to decide whether Hollygirt would be a good fit for their senior education.  The last activity, titled 'team building', seemed to involve eating lots of strawberry laces without using hands… curious. On Thursday, a small selection of the candidates returned to school for some formal scholarship testing.
We have had a really successful sporting week! Yesterday, our Year 7 girls and boys team played in the City Badminton Developmental League. Our girls placed second winning silver medals and the boys team placed first and won GOLD! Fantastic. This followed the awesome success on Tuesday of the Year 8 girls basketball team who got through to the finals in the City Basketball Developmental League! Well done!
Next week is SPARKLE WEEK and Mrs Howlett will do an assembly on Monday about what pupils can expect throughout the week and how to get involved.
On Monday, the Year 7 will have their Conference Day and Year 8 parents will join us for Parents' Evening from 4.15pm.
On Tuesday, Year 11 will have their Conference Day. Also on Tuesday is the parents' information session at 4.00pm regarding the changes to the PSHE (Personal, Social, Health Education) and RSE (Relationships and Sex Education) curriculums that will be introduced by September 2020.
On Friday, the Second Hand Uniform Shop should be open from 2.00pm to 4.00pm and the Parents' Forum will meet 4.00pm – 5.30pm. Agenda items will be sought from forum members on Monday, but all parents may submit items for discussion by emailing andreabamber@hollygirt.notts.sch.uk. New members of Parents' Forum are always welcome.
Have a fantastic weekend,
Mrs Hutley
Headmistress
Message from the Head of Juniors
Click here to view this week's Stars of the Week
Dear Parents,
On Wednesday, our Year 6 spent the day in the Senior School for the Year 7 Entrance Day.  I joined some of the groups for the afternoon and they all were thoroughly enjoying themselves; our pupils especially enjoyed making new friends with children who may join us next year.  In the juniors, we were visited by Nottingham Forest who delivered an inspiring assembly on the theme of 'Dream Big'. The children love the hats which Nottingham Forest kindly brought in for them.
Today, it is Robot Day in the Junior School. All classes from Nursery to Year 6 will have the opportunity to participate in workshops. This afternoon, we are also welcoming children from other local primary schools to join in with some of these sessions. Thank you to Mrs Wand for organising this event.
Next week is Sparkle Week and children can wear sparkly or bright coloured accessories to school. In addition to demonstrating acts of kindness to each other throughout the week, juniors have planned class activities, for example, making biscuits, visiting a local hospice and singing to residents of a local nursing home. You will receive details of these.
On Tuesday, Mr Dean and I will be hosting a meeting to introduce our new PSHE/SRE curriculum. This meeting will begin at 4.00pm in the Senior School hall. Refreshments will be provided.
On Wednesday, children in Nursery have invited their parents to join them in the afternoon. I am sure it will be a fantastic afternoon.
On Friday, Mrs Keyworth will be taking her hockey team to compete at Worksop College.  Good luck to all of the team; we look forward to hearing the results.
Have a lovely weekend,
Mrs Wright
Head of Juniors