GCSE success for Hollygirt School as 87% of pupils obtained 5 or more 9 – 4 grades including Maths and English
We're celebrating another fabulous set of GCSE results and offer our heartfelt congratulations to all our Year 11 pupils. No other cohort in Hollygirt's long history has faced so much disruption during their two years of GCSE study and these results are a testament to the resilience and hard work of this outstanding group of young people.

87% of pupils obtained 5 or more 9–4 grades, including Maths and English (the equivalent of A*- C in the former grading system). Over 44% of all entries were awarded the top 9-7 grades (formally A* – A), and over 90% of grades were level 4 (C equivalent) or above.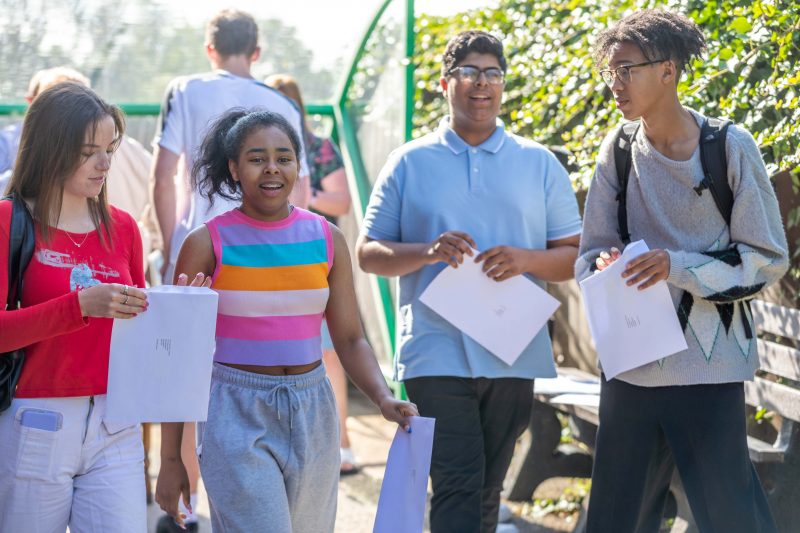 Headmistress, Mrs Pam Hutley, said:

For our GCSE pupils, getting their grades this August, it has been a pretty turbulent journey. In lockdown from March to July of their Year 10 and again from January to March of their Year 11, with classmates missing in self-isolation, and exams, once again, being cancelled. Success this year has been well earned and very different. There have always been pupils who listen and take things in, and with a laid back attitude for the duration, manage to revise hard and pull it out of the bag in the examination. And there have always been pupils who work like stink throughout, only to trip over the examination pressure hurdle.

In 2021, pupils were informed later in the Spring Term that they, like the 2020 cohort, would not be sitting examinations and that their grades would be judged on the evidence their teachers had of their actual attainment throughout their course. This differed from last year when the centre assessed grades were based on the examination potential of the individual… And so those who realised that teachers could not make it up and that their outcomes were to be judged, not on historical data outlining the possibilities or on the vagaries of examinations, or indeed of algorithms, sat up – and worked hard to prove their potential over the time available to make up ground lost. Of course, at Hollygirt, pupils were engaged in learning online when they were not in school – but with the best will in the world, it is not the same.

Now the results are in, those who deserved great grades, got great grades. I am proud to say that 44.2% of entries were awarded a grade 9-7 grade. (This is the equivalent of the old A*/A grade) and 91.1% of grades were level 4 (C grade equivalent) or above. In people terms: 91.3% of pupils obtained 5 or more 9-4 grades. Percentages are not easy to reconcile with small cohorts of such different pupils, but this is how we compare data year on year, and this year shows a steady rise in attainment over time.

Of particular note this year are Max C and Yusuf M who have achieved grades 9-7 across the board. Well done to all our pupils who worked hard, in difficult circumstances, to fulfil their academic potential. Remember though, that academics alone do not make for success in life. What we hope all our young people have at the end of their Hollygirt education is the resilience to cope with whatever life throws at them, the determination to succeed, kindness, tolerance and empathy to progress without impacting negatively on others, and the confidence and self-esteem to look ever onward and upwards.

I am proud of you all.