Message from the Head
Dear Parents,
Busy week!
Thank you, Mrs Griffiths, for a really inspiring Harvest assembly on Tuesday and to all of you for your contributions to the Guru Nanak's Mission.
Thank you to Mrs Fry and the lovely Year 7's for my 'positivity tree'; a beautiful creation that encompasses positive thoughts on remarkable leaves and is a real source of encouragement on busy days.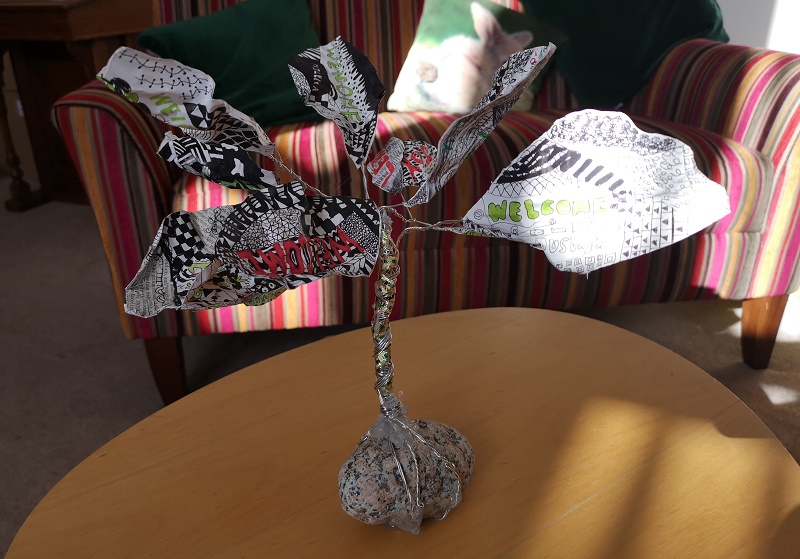 You will have received your letter about Prize Giving by now and I'd like to take this opportunity to explain a slight change in practice. Historically, students were collected from the Albert Hall at lunchtime and then returned in the evening but for three reasons we are coming back to lessons in school this year:
We felt it is difficult for many parents to collect students in the middle of the day and arrange childcare on a working day.
We have lost a lot of in-school curriculum time over the last year.
We have a day off in lieu in December.
I do hope this change in arrangements is easier for you. Prize Giving itself will be a shorter but nevertheless important and warm opportunity to celebrate our students' effort and achievement.
I led an assembly myself today in the senior school and talked to all the students about my research – how 'study, test, test, test' is better for retaining information than 'study, study, study test'. This is about retrieval practice. Re-reading and highlighting are not as effective study strategies as recalling information in quizzes, tests – just trying to remember. FORGETTING IS GOOD! Recalling information once forgotten – when it's hard to remember- helps the information to go deeper into memory. I will arrange a session on this for parents but in the meantime, direct you to the Learning Scientists and The Effortful Educator. As said, more anon but this is real learning for life! More anon as it is difficult for me to condense 80,000 words of thesis into a nutshell but 'study, test, test, test' is the best I can do and the academic reference is  (Roediger & Karpicke, 20062, 2006b).
Last week's Macmillan event raised £436.87 so a big shout out to all who helped -fantastic. I am happily still eating cake – wonderful and will bring the cake box back in next week!
It was lovely to see so many of you and Hollygirt alumnae at Southwell Ploughing Match last weekend. Everyone had wonderful memories of their time at Hollygirt and we work hard now to ensure that that tradition continues.
Have a lovely weekend,
Dr. Helen Barsham
Head
Message from the Head of Juniors
Good afternoon,
After a rainy week, I can now see some blue sky outside, however, as temperatures do drop, please could you remind children to have jumpers and cardigans in school, together with their green school coat. Please could we ask for all uniform to be clearly named.
Yesterday, the whole of Year 6 took part in a Dodgeball tournament. They played seven schools overall and a total of 35 matches.  They won all but 6 of the mini games!  An amazing effort by everyone – their team spirit was superb.  A huge congratulations to the entire class.
Next week is looking busy.  On Wednesday, Perform For All will be visiting us and delivering workshops for EYFS and Key Stage 1. Later in the morning, we have our poetry assembly to celebrate National Poetry Day and all classes have been working hard and will be taking part in this.
Parents' Evenings are also next week and we are really pleased to be welcoming you back into school. On arrival, for the Junior School, please come via the Elm Avenue gate. Refreshments will be available in the Junior library or, for Years 5 and 6, in the Friends' Room where we will ask you to sign in.
You will have received a letter about Prize Giving arrangements.  This falls on Wednesday 13th October and we are so pleased that this can go ahead with this. In order to allow Junior staff to travel home and back to the Albert Hall for the ceremony, there will be no extra-curricular clubs and After School Club will finish at 4:30pm.  In the evening, children will need to wear formal uniform and for girls, this is their green skirt, white shirt, school tie, green tights and blazer. Boys should come in their usual uniform but with trousers and not shorts, please. Whilst we are happy for KS2 children who are attending the evening event to arrive a little later on Thursday 14th, they can of course come to school at any time from 8am if this is preferable. Any questions about this day, please do not hesitate to contact me.
This week's Stars of the Week can be viewed here.
Have a lovely weekend,
Mrs Wright
Head of Juniors